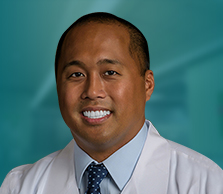 Kenneth Estrera, MD
Kenneth Estrera, MD
Medical Director of the Hip and Knee Replacement Service at Medical City Frisco & Plano
Board Certified by the American Board of Orthopaedic Surgeons
Kenneth Estrera, MD is an adult joint reconstruction surgeon with Texas Metroplex Institute for Sports Medicine & Orthopedics (TMI) and serves as the Medical Director of the Hip and Knee Replacement Service at Medical City Frisco and Medical City Plano. Prior to joining TMI, he was an Assistant Professor in the Department of Orthopedic Surgery at UT Southwestern Medical Center where he served as Medical Director for the Joint Reconstruction Service. He specializes in hip and knee replacement, partial knee replacement, minimally invasive joint replacement, and complex and revision joint reconstruction with additional expertise in the management of periprosthetic joint infections.
He was born and raised in Dallas, Texas where he graduated from Lake Highlands High School. He was recruited to play football at Yale University where he received a degree in Molecular, Cellular, and Developmental Biology while earning All-Ivy League honors as an inside linebacker. He received his medical degree at the University of Texas Medical School at Houston, where he was also awarded a National Institutes of Health research grant and the C. Frank Webber Prize for his research on diabetes and orthopaedic injuries in college athletics. Dr. Estrera completed an orthopaedic surgery residency at UT Southwestern Medical Center in Dallas and received the Vert Mooney Award for Academic Achievement. During his residency he served as a specialist registrar on the joint arthroplasty service at Norfolk and Norwich University in England. He completed his adult joint reconstruction fellowship at the nationally recognized Rush University Medical Center in Chicago. While in fellowship he trained with world-renowned surgeons and he received specialized training in minimally invasive joint replacement and complex joint reconstruction. Dr. Estrera returned to Dallas to join the UT Southwestern faculty before joining TMI at their new clinic location in Frisco. His wife Sarah practices Maternal Fetal Medicine at UT Southwestern/Parkland Memorial Hospital and they have two young boys named Sam and Charlie.
Knee Replacement Surgery
The process of knee replacement surgery, also called arthroplasty, involves resurfacing the ends of the bones that form the knee joint. Surgical instruments are used to remove the cartilage and damaged bony surfaces of the tibia, femur, and patella, and metal and plastic components are sized and shaped to replace the damaged parts.
Not all patients need surgery, however, which is why Dr. Estrera exhausts all nonoperative options before considering a hip or knee replacement. He notes that joint replacements are life-long commitments and says a vital part of his job is thus educating patients and their family members about the process, which improves the experience and eventual outcome.
Texas Metroplex Institute – Frisco
5680 Frisco Square Boulevard
Suite 1200
Frisco, TX 75034
[javascript protected email address]
Click here for driving directions and location map.